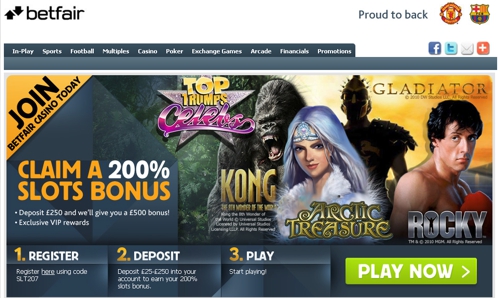 Many of you may already be familiar with Betfair from their high-profile position(s) in the worlds of online poker, sports betting, and the even more prominent betfair exchange. However, although it should come as no surprise considering their success in other areas, Betfair's online casino may not be that well-known but it really is a top-notch site with some great quality features.
Two Lounges
Perhaps the first thing worth mentioning about Betfair Casino is that it is divided into two 'lounges': the Main Lounge and the "Zero Lounge".
Main Lounge
In the Main Lounge, players will find over 40 of the most popular online casino games, all which feature quality graphics and well-executed gameplay.
Zero Lounge
Betfair's "Zero Lounge" is a bit more unique and represents what we think is a pretty amazing approach and strategy in the online gaming community. The "Zero Lounge" features a handful of games with ZERO house edge. That's right, these aptly named "Zero Games" have no house edge; the return to players on all zero games is 100% (correct to at least 1 decimal place based on optimal player strategy, of course). Players can choose from Zero Roulette, Zero Baccarat, Zero Jacks or Better, and Zero Blackjack. If you can't find the game you're looking for in the Zero Lounge, don't worry, you're sure to find a regular version back in the Main Lounge. We're big fans of this novel concept and give kudos to Betfair for taking such an approach and distinguishing their operation from all of the others there these days.
Casino Software
In terms of software, no download is required here as games are easily played in pop-up browser windows so all you really need to get started is a Betfair account which you may already have if you've used any of their other services(if you're looking to practice and play for free first, you don't even need the account!). The software itself isn't too shabby and is powered by Chartwell Technology which is based out of Australia. The lobby is set-up like all Betfair programs and provides a clean and classy look with a straight forward navigation.
For all of you Mac users, no worries here as this software is browser-based and works well on Firefox, Netscape, and Safari.
New Player Bonuses
New players receive a nice 100% bonus match up to £50 at signup and Betfair Casino keeps up with the rest of the industry with some nice regular bonus options and some lucrative jackpots.
Customer Service
Customer service is really great and what you'd expect from such a large and well-established company. Having been around and proven themselves at sports betting, online poker, and the development of the Betfair exchange, these guys really know how to take care of their clients. Accordingly, this a very safe and secure site with several different methods for depositing and withdrawing funds and any questions which may arise are easily and quickly answered. All in all, we really recommend this operation for anyone who's looking for a change of pace from the Microgaming and Playtech-powered sites and certainly for anyone looking to take advantage of the very impressive "Zero Lounge"! Click here to visit the Betfair Casino website.