News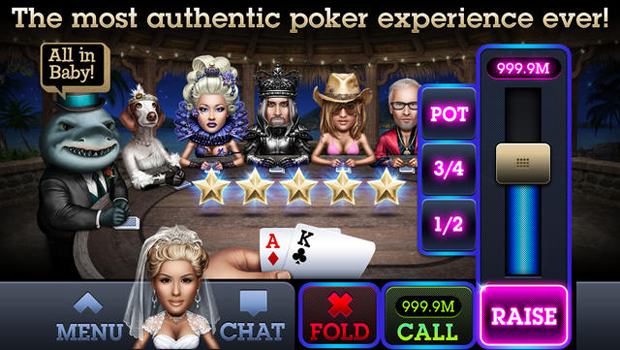 Published on April 9th, 2014 | by Steve Gardman
Idle Gaming Launches Fresh Deck Poker: Reloaded
Social casino studio Idle Gaming recently announced the launch of an updated version of its popular social poker product Fresh Deck Poker: Reloaded, for iOS and Android devices. The San Francisco based studio said the refreshed version for mobile devices now features an intuitive interface and improved lobby and navigation system to allow players quick access to Texas Hold'em, Royal Hold'em and Sit-n-Go tables. The app also allows players to find friends' tables quicker, share their activities on a wide range of social networks, and customize their avatars.
Fresh Deck Poker: Reloaded boasts of a new soundtrack. The developer seeks to create a more authentic experience for poker players who will have the opportunity to buy back into tournaments with the introduction of Rebuy Sit-n-Gos. The random number generator and algorithms have been certified by real-money testing house GLI. Idle Gaming describes the game which features enhanced animations as '2.5D'. Stuart Lewis-Smith, CEO of Idle Gaming said there have been across-the-board enhancements made to this version. According to the CEO, players can enjoy an ultra-realistic, authentic free-to-play poker experience.
Connective Games Partners With Balkan Texas For New Online Poker Network
In a bid to explore the Eastern European poker market, Tomsk, Russia based online gaming software supplier Connective Games and plans to build an online poker network with online gambling company Balkan Texas. The objective of both companies is to develop a platform to offer players a unique playing experience by leveraging their resources, expertise, technologies and experience. The new online poker network may take around two months materialize and will be managed by a team of specialists.
The chief executive officers of the two companies issued a joint statement saying both Connective Games and Balkan Texas shard the same values and have the potential to build a robust online poker network based on trust, flexibility and transparency. Dean Todorovic of Balkan Texas and Konstantin Zubarev of Connective Games also clarified that their priority was to establish a poker network that offers an engaging player experience that will strengthen its customer base and help build a loyal poker playing community.
Established in 2000, Connective Games offers customized online gaming software solutions based on a scalable platform designed to operate under heavy traffic. Balkan Texas operates an online poker room and casino that offers a wide range of slots, table games, card games and video poker.
Related Posts