Alice's Wonderland Slot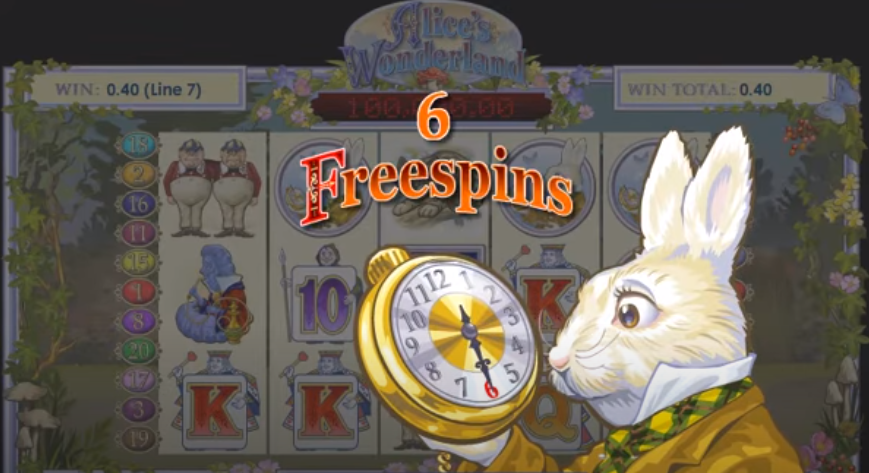 Alice's Wonderland is an extremely popular slot game due to its wealth of bonus rounds and progressive jackpot element.
Based loosely on the fairy tale written by Lewis Carroll, the slot game is powered by Ash Gaming and features 5 reels and 20 paylines. The game's graphics are of excellent quality, and the wonderful soundtrack and immersive ambient sound design serve to further enhance the atmosphere. It appeals to all players as, if you select all the paylines, you can play for as little as 20p a spin, to a whopping £200 a spin (for the high rollers!). You can also customise the number of active paylines, and if you fancy placing an even more modest stake, sticking to a single payline allows you to wager a mere 1p.
Here, you will find information regarding all the features you can expect to find while playing the Alice's Wonderland slot game.
Alice's Wonderland Slot
Provider
Ash Gaming
Reels
5
RTP
93.59
Wild Symbol
Drink Me Potion
Scatter Symbol
Mad Hatter, White Rabbit, Rabbit Hole
Highest Paying Combination
Five Drink Me Potion symbols
Min Bet
£0.01
Max Bet
£200
Max Win
10,000x bet
Jackpot
100,000x bet
Slot Theme and Gaming Experience
As suggested by its name, this slot features a theme based on Lewis Carroll's all-time classic Alice in Wonderland. The book has inspired countless films and games throughout the decades, and the experts at Ash Gaming have provided us with their take on this wondrous adventure.
The hand-drawn artwork would fit perfectly in an illustrated fairy tale book, and the UI elements bearing the same design language make for a whimsical and nostalgic look overall. Additionally, the symbols pay tribute to the original book's iconic characters, such as Mad Hatter, March Hare, Tweedledum and Tweedledee, Cheshire cat, and, of course, the protagonist herself, Alice.
The gameplay is streamlined and easy to get the hang of, even if you are a complete novice to gambling and slots in particular. At the same time, there is a good variety of extra features like free spins, various bonus modes, and a progressive jackpot that can be triggered during the Tea Party bonus feature, all of which contribute to you having a fantastic time while you spin the reels. You can choose how many paylines you wish to activate and go from a more classic three-payline structure to the 20 maximum paylines this slot can provide.
Winning combinations are counted from left to right, and the same symbols must land on subsequent reels for them to count. In addition, the symbols must come in a combination of three, four, or five.
Slot Symbols and Combinations
As established, Ash Gaming has not neglected to ensure that each symbol fits the setting of Alice in Wonderland perfectly. Even the very first symbols, which are based on playing cards, a classic in slot games, look picturesque and right at home among the rest of the symbols. These cards start with a ten, which will reward you with 4x, 10x or 25x your stake, depending on the size of your winning combination. Next up is the Jack, which pays out 5x, 15x, or 30x the money you bet for a combination of three, four, or five, respectively. The Jack is followed by the Queen, which features winnings 6x, 20x, and 50x your stake, while the King will reward you with your bet times 8, 35 or 80. The most generous of the card symbols is the Ace, with its 10x, 50x, and 100x stake per win.
The second set of symbols is based on the book's characters, and we will first introduce you to the Caterpillar, which will provide you with your stake times 30, 100 or 500, and this is again reliant on whether a combination of three, four, or five was achieved. After that, we come across the ever-grinning Cheshire Cat, which is even more generous and offers a maximum winning combination of 1000x your stake. A lower number of illustrations will provide you with your stake times 400 or 50. Tweedledum and Tweedledee have not been neglected either, and they will reward you with 70x, 600x, or 1500x your bet.
Next up are the slot's scatter symbols, and the first one we will focus on is the Rabbit Hole, which triggers the bonus mode in which Alice begins her descent towards Wonderland and gives you various prizes along the way down. Next is the White Rabbit, who always lacks in punctuality, and here, three copies of his portrait will reward you with between 7 and 20 free spins, and you could also receive up to 5 sticky wilds. The last scatter symbol is the Mad Hatter. He triggers the Tea Party bonus, and during this extra game, you can win between 2 and 1000 times your bet.
The Drink Me potion serves as this slot's wild. Apart from being able to substitute the rest of the symbols, excluding scatters, it also rewards you with 100x, 1000x, or 10,000x your bet, depending on the size of the wild combination.
Slot Bonus games
Although Alice's Wonderland has been available for quite some time, it does not fall behind modern slots in terms of the features it has to offer and its looks. Players will be generously rewarded if lady luck decides to grace them with her presence, and the exciting yet quaint animations complement the game's overall atmosphere perfectly.
Rabbit Hole Bonus feature
The Rabbit Hole is an extra feature which is triggered by getting one Rabbit Hole symbol on the middle reel. Alice will then start free falling down the rabbit hole. No need to worry though, she collects prizes as she falls with up to 22 times your stake on offer. This bonus mode ends once Alice has reached the bottom of the Rabbit Hole.
Pocket Watch Bonus Game
You can initiate this bonus round by getting 3 or more White Rabbit symbols anywhere on the reels. The Rabbit then proceeds to look at his pocket watch, which stops on a random number, and this feature can be triggered multiple times. The numbers are then totalled and give you up to 20 free spins. The Rabbit's work is not done as he hops across the reels, making the chosen symbol a sticky wild for the free spins. The reel set used is enhanced too which can be hugely beneficial to your winning tally.
Mad Hatter's Tea Party Bonus Feature
We have saved the best till last—the Tea Party is activated by getting 3 or more Mad Hatter symbols on the reels. You will then serve tea to each character by clicking on them, and the characters in question are Alice, March Hare, Dormouse and Mad hatter. Upon being clicked, each character will start drinking. The longer your chosen character takes to drink their tea, the bigger the reward you will win. Once they are finished, they place their hands over their cups. Let us hope they are thirsty!
Now, if you are lucky, one of them will also be served sugar. If you see sugar being added to the tea before a character drinks it, this means you have triggered the progressive jackpot. Although things like this happen very rarely, a jackpot like this can be very eventful, to put it lightly. It happened to Debbie Mangan, who won an incredible £460,134.23 at Sky Vegas Casino in September 2011.
Final Words
All in all, there is a lot to like about Alice's Wonderland slot. The game's aesthetic is unmatched in how well it fits the setting, and its simplicity makes it accessible to a wide variety of gamblers. Regardless of whether you are a more cautious player or you are a big spender who prefers to be daring when they visit their online casino of choice, you will be able to enjoy everything Alice's Wonderland has to offer.
The slot offers classic features that make the gameplay all the more thrilling, and all of the symbols which trigger these bonuses are quite fitting and true to the book's characters.
Alice's Wonderland is a superb slot game which has been one of the top played slots amongst slot lovers. It is fun, exciting, and the fact that it could change your life thanks to one of the bonus features is what makes it so revered.