Monster Mayhem Slot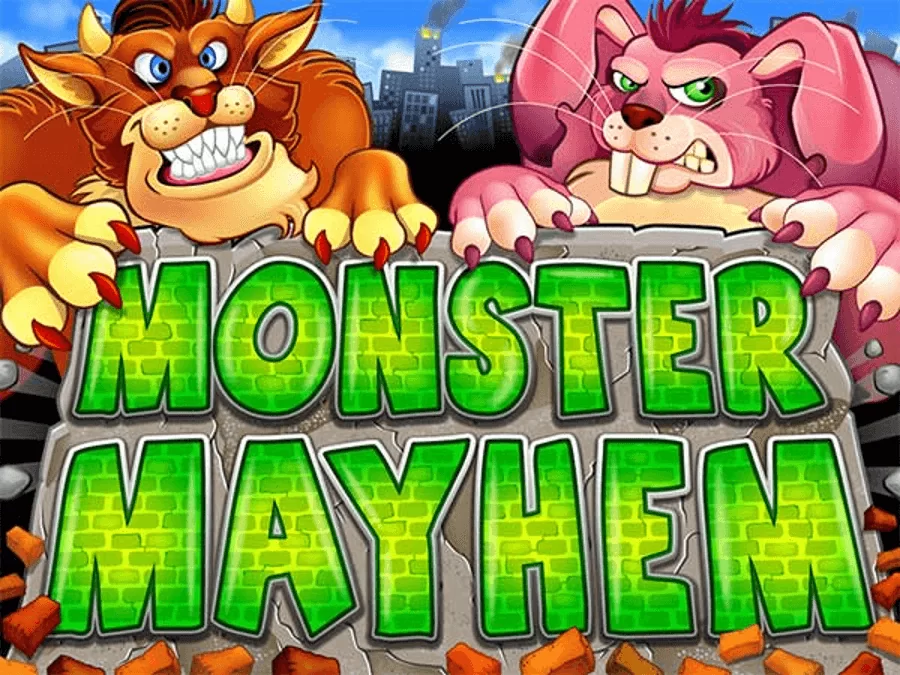 Monster Mayhem is an online video slot game by Real Time Gaming that allows users the fun of playing slots without leaving their homes. It can provide hours of entertainment as you seek out the two monsters, Crash and Smash, in the hopes of hitting it big. They both turn Wild, bringing chaos and excitement with them.
Launched in 2011, the slot is characterized by a nice cartoon-like style. The slot machine features up to 50 lines of play at one time, maximizing the ability to win big.
The slot grid features 5 reels and 3 rows, all depicted in nice, vivid colours. Bets range from £0.01 to £5.00 per line. The RTP of the game stands at 95.00%. It has two progressive jackpots, Wilds, free spins, and more. This review provides casino fans with detailed information regarding the features, payouts and gaming experience related to this engaging cartoon-themed slot.
Monster Mayhem Slot
Provider
Real Time Gaming
Reels
5
RTP
95.00%
Wild Symbol
Smash and Crash
Scatter Symbol
The City symbol
Highest Paying Combination
5 monster footprints
Min Bet
£0.01 per line
Max Bet
£5.00 per line
Jackpot
A minor and a major Jackpot
Slot Theme and Gaming Experience
Fire is spreading at a rapid pace in a big city and chaos rules everywhere. Broken cars, scared citizens, policemen and helicopters uncover something distressful is currently going on in the city. Smash and Crash are two monsters wandering through the city streets and causing all the chaos and disturbance.
Once you select how many lines you would like to play, you need to decide how much you want to bet per line. After you enter the amount per line you wish to bet, it is time to play the game. All you need to do is click on the "spin" button. If you prefer, you can set a specific number of spins and allow the software to auto spin for you so you don't need to keep clicking the button. If you hit a jackpot or re-spin, you have the option of stopping, even if you still have spins left.
To achieve some winning while playing Monster Mayhem, players need to land at least two or three symbols of a kind on an active payline.
The game is characterized by a pleasant, user-friendly interface, allowing players to adjust all the customisable options as per their preferences.
Slot Symbols and Combinations
Let us now begin exploring the symbols of the Monster Meyhem slot and reveal what payouts they generate.
Starting with the lowest-paying symbols, the claw-scratched newspaper and the camera, if players land 3, 4 or 5 of them on an active payline, their winnings range from 5x to 100x the stake.
A projector and a fire hydrant are next in line. If players are lucky enough to land 3, 4 or 5 of them on a payline, their total profit will be multiplied by respectively 5x, 50x and 200x the initially wagered amount.
The medium-paying symbols in this slot include a helicopter, a broken car, and a policeman. While 3, 4 or 5 symbols of a helicopter or a broken car multiply winnings respectively by 15x, 75x and 400x, those generated by the symbol of a policeman bring rewards ranging from 25x to 500x the bet size.
Players who have succeeded in lining up 2, 3, 4, or 5 symbols of a scared lady wearing a green, white-dotted dress and a green hat produce winnings varying from 3x to 1,250x the bet amount.
The most profitable combination in the Monster Mayhem slot is that of five of a kind monster footprints that pay at a rate of 2,500 the stake amount.
As you play the Monster Mayhem slot game, you will run into several special features. Scatter symbols will allow you to win in situations where you may not otherwise win. While the symbols typically pay in a left to right fashion, the scatter symbols can pay in any order, increasing your odds of winning on each line.
The Smash and Crash symbols themselves are considered wild cards. If they appear anywhere on Reel 1 (Smash) and Reel 5 (Crash), they qualify as any other symbol, which can give you a win where you otherwise wouldn't have one. They can even substitute for the City scatter symbol. Should the two monsters appear simultaneously on Reels 1 and Reel 5 respectively, they propel the Monster Mayhem Re-Spins feature.
The City Scatter symbol can appear anywhere on the reels. If 3, 4 or 5 of the scatters land on the reels, the payouts range from 2x to 50x the entire wager.
Slot Bonus Game
In this section, we are going to review Monster Mayhem's bonus round, as well as the progressive jackpots that are accumulated and maximize players' chances of greater returns.
Featured Bonus Round
In Monster Mayhem, you reach the bonus round, which is called a Re-Spins Feature, by getting the Smash monster somewhere on Reel 1 and the Crash monster somewhere on Reel 5. If you achieve a re-spin, you will get to spin up to 10 more times. The two reels where Smash and Crash have landed remain locked in place, whereas the other three reels are spinning. For each spin, your winnings multiply by the spin number. For instance, if you are on the fifth spin, your winnings for that spin are multiplied by 5.
Random Jackpots
As far as jackpots are concerned, Monster Mayhem features two random jackpots – a minor and a major one. Players stand a chance of winning at the end of each game they play. While you play the video slot game, you have a chance to win the jackpot based on the contents of each line in your spin. However, at the end of each spin, money is added to the random progressive jackpot. Everyone who is playing the slots at any given time is contributing to the same random jackpot. This means that the total can get high quickly. Anyone can win this jackpot at any time.
Final Words
Playing online video slot games can be a lot of fun. Monster Mayhem provides you with a fun way to play online slots, giving you two ways to win. You get to choose how many lines you play and how much you bet on each spin. The ability to auto spin and take advantage of the re-spin features can give you more play for your money.
Being a dynamic casino game, Monster Mayhem brings the hustle and excitement of the city to the players' screens, along with decent chances to land a big win, especially during the Re-Spins feature where the payoff index increases with each new round.