Tomb Raider Secret of the Sword Slot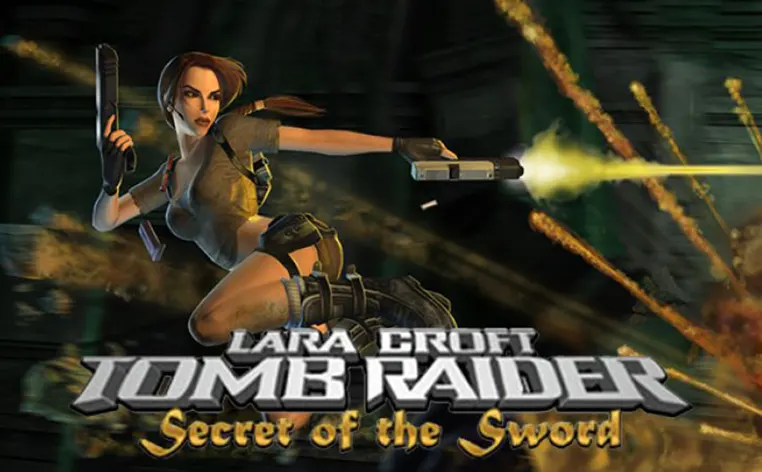 Lara Croft was first introduced in 1996 with the release of the first-ever Tomb Raider game, and the innovative title became an instant hit. As one might expect, this has resulted in numerous spin-offs created to honour this legendary fictional archaeologist, and among the sequels and even a blockbuster film, an excellent slot by Microgaming is also something Tomb Raider fans can now enjoy.
Excitement awaits behind every spin when you join Lara Croft on her newest adventure in the setting of Tomb Raider: Secret of the Sword. It is one of the most exhilarating pokies you can come across within a casino's catalogue.
Spinning the reels will introduce you to different versions of Lara Croft, and adding up your tokens is fast and fun. The soundtrack makes you feel like you are navigating the corridors of an ancient tomb. It suits the franchise's atmosphere so well it is reminiscent of both the original games and the movie.
Tomb Raider Secret of the Sword Slot
Provider
Microgaming
Reels
5
RTP
95.22%
Wild Symbol
Lara Croft
Scatter Symbol
Artefact, Passport
Highest Paying Combination
Five Wild Symbols
Min Bet
30p
Max Bet
£60
Max Win
7,500 credits
Jackpot
N/A
Slot Theme and Gaming Experience
The Tomb Raider slot is not just a looker. It also packs a punch as the sequel to the first Tomb Raider pokie. In terms of gameplay, the slot has five reels and three rows, and with each spin, there are thirty different ways you can hit a win. Your money can multiply before your eyes with so many winning combinations, and you will love the option of using up to 10 coins in variations between 0.01 to 0.20.
Although Lara Croft has been gracing online pokies for more than a decade, she will capture your heart again in this new online game. The story's tension gradually increases, and the drum roll bangs when you spin two of the new black and green Excalibur Sword symbols. Follow the story as Lara searches for ancient relics used by Thor, the God of Thunder and King Arthur, to mention a few.
The game is also laced with free spins, and you are also provided with some optimum chances for winning more money when you encounter three of the Excalibur Sword symbols.
Slot Symbols and Combinations
Tomb Raider: Secret of the Sword is packed with Tomb Raider themed icons. First of all, the card value icons themselves have a polished look that could belong to an item from an art museum or a jewellery store. The first two cards, 10 and J, will reward you with your stake times 60 if five copies land on the reels, while four copies will give you 15 credits. The next symbols are the King and Queen, and five icons of either will leave you with 80x your bet, while four and three copies give 20 and 8 credits, respectively. As for the best card, that would be the Ace symbol, which pays out 100 credits for five Aces.
Lara Croft is also featured in the symbols, and she, in fact, stars in all four ordinary symbols that are left. She wears a black outfit in the first icon, and if you land a five-reel win, 300 credits await. The protagonist is riding a red bike in the second symbol, and if five icons land on the reels, you will be left with your bet times 500. Next, we can see that Lara is wielding a pair of guns and shooting at an unseen enemy, and this intense scene provides the player with 1000 credits. If you get four copies, 200 credits will be given to you, while 25 and 2 credits is what you will receive for three and two copies, respectively. In the final artwork, Lara is seemingly hanging off a rope or the edge of a cliff. This symbol rewards one's stake times 2000.
Apart from the ordinary symbols, you will also see Lara Croft illustrated in this game's wild symbol. This icon has a value of a whopping 7500 credits, and it replaces all of the symbols in the game apart from the Ancient Artefact and Passport scatter symbols. Artefact scatter wins are multiplied by your total bet, with five copies rewarding a 100x multiplier.
Slot Bonus Games
The original Tomb Raider is known for how varied and fascinating its environments are and how each area lets you encounter unique gameplay, such as various puzzles and new enemies. This can go a long way to making a game exciting, and the developers at Microgaming have done their homework and ensured that slot lovers also have a lot to enjoy when they play Tomb Raider: Secret of the Sword.
One of the game's biggest features is The Global Adventure Game. It is triggered by a symbol depicting a passport, provided it lands in the centre of the middle reel. You will then be shown the world map and several destinations to choose from for your first adventure. Each one has a mini-game where you need to click on the statues or items to find treasures. You could cross traps, but you can also find the sword fragments scattered across the world. Occasionally, players are rewarded with coins, and each sword fragment will provide you with additional coins.
If you fall victim to two traps, your adventure will end. On occasion, however, you will have to fight Amanda, Lara's former friend, who is now an enemy. Defeating Amanda will allow you to continue. All in all, the end goal is to collect all sword fragments, which will grant you up to 450 your average stake. Other bonus features of this mode include the Hidden Treasure bonus, with which you can win a 2x multiplier, a bonus value, all wins for the destination in question, or you could also be granted access to the ShootOut mode. Here, you will pick a plate and shoot down the rest, eliminating them from the game. The value of the plate you had picked will be shown in the end, and it will be your reward.
Apart from The Global Adventure Game, there is also a chance of hitting the Super Mode. This game mode contains wilds that may line up and give you the chance to gain five free games with more chances of landing more wilds. This ups your chances of hitting a top win while you are playing this mode.
Another bonus feature is the free spins mode, which you can enter with the help of the Artefact scatter symbols. These are not your ordinary free spins, however. When the ancient symbol appears, that is just the beginning of an awesome Rolling Reels play that might keep your free spins rolling on for quite some time. You will love experiencing it for yourself. The free spins are ten. Rolling Reels can result in consecutive wins, and you can achieve a 5x multiplier.
Final Words
The Tomb Raider: Secret of the Sword slot was first released in 2008, and it features artwork from the original Tomb Raider games. The slot is packed with various interesting features courtesy of the experts at Microgaming, and the sense of adventure can be felt throughout, especially when you enter a game mode where you collect the fragments of an ancient sword.
This slot can be found within the library of your online casino of choice, and it enjoys great popularity among both fans of Lara Croft and the average punters who frequent online gambling websites. At the end of the day, this slot's graphics and bonus games make it appealing to a wide variety of slot lovers.