Fruit Shop Slot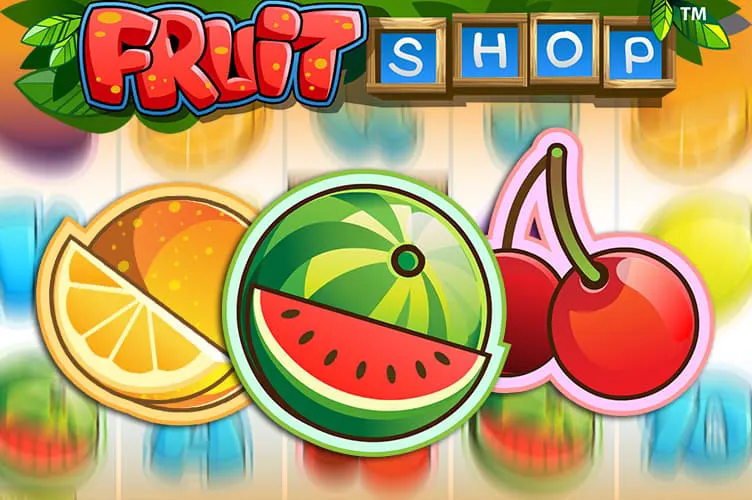 Online casinos enable anyone to take advantage of some of the best video slots in the world, and now consumers are offered Fruit Shop to make the most of their online gaming experience. NetEnt offers the latest in terms of technology, and the artwork quality is superior to anything found in a physical casino. There are also a host of bonus codes and promotions that are designed to ensure anyone has a great chance to cash in on the millions that are given away each day.
Fruit Shop is one of the most fast-paced and exciting online slots on the web. It includes five reels and fifteen bet lines, and for a winning combination to count, it must start from the leftmost reel. Fruits Shop includes some classic features that are found in most online slots. The Wild substitutions and the x2 multiplier can be enjoyed by anyone. A spin button ensures that gamers can play their slot at the current betting lines, coin value and bet level, but you can easily give this functionality to the spacebar if you prefer.
Fruit Shop Slot
Provider
NetEnt
Reels
5
RTP
96.71%
Wild Symbol
Fruit Shop
Scatter Symbol
Cherries
Highest Paying Combination
Five Cherries
Min Bet
€0.15
Max Bet
€150
Max Win
8000 coins
Jackpot
N/A
Slot Theme and Gaming Experience
Bright and colourful, Fruit Shop is a classic slot through and through since it incorporates delicious-looking fruits and traditional cards as its symbols. Despite its nostalgic visual interface, Fruit Shop is very much a modern slot, as is evident by the fact that it can easily be played on both desktop and mobile devices, and features such as free spins, game history, a left-hand mode, and double payouts are also available.
Autoplay is another option that appeals to busy players. It is very customisable, and this mode will provide the preset number of rounds to be played with no intervention. The wild symbol can substitute for all of the other icons, and only the highest win is paid out per payline. Free spins are another advantage that is offered to users who wish to enjoy Fruit Shop, and this assures anyone that they will have more chances to win. There are numerous free spins that are offered throughout the game.
Graphics are a concern to every person who enjoys online slots, and Fruit Shop provides some of the best. The odds for this game are also some of the highest in the industry, and players can take advantage of a return that will average 96.7%. This is much higher than other online slots, and it is far more competitive than anything that can be found in Vegas or other physical casinos.
Slot Symbols and Combinations
The developers at NetEnt have made sure to provide Fruit Shop with plenty of charming symbols, and there are two categories of icons, cards and fruits. Cards 10 through Q reward 5 coins for three copies of the same symbol, while 50, 60, and 76 coins are what you will be rewarded with for five of a kind. These symbols are followed by the K, which leaves you with your stake times 100 for five symbols, while the Ace provides you with 150x your bet in the event that five copies land on the reels. If five of a kind land, you will be provided with 200 credits.
The next set of symbols is the fruits, starting with the watermelon, which grants you 200 coins per a five-reel win. Next are the oranges and lemons, which award 500 and 750 coins per five of a kind, respectively. The plums are the second-best symbol you could see, as it generously rewards you with your stake times 1000, while the cherries are the highest-paying icon and leave you with 2000x your stake.
The wild symbol in this game is the Fruit Shop logo. It appears on the second, third and fourth reel, regardless of whether you are in the regular game or the free spin mode, and can substitute for all of the remaining icons. Moreover, if this symbol is part of a win, your winnings will be doubled.
Finally, there are a number of combinations which will result in you receiving free spins. During regular gameplay, different matching of the fruit symbols will result in one, two or five free spins awarded depending on whether you got three of a kind, four of a kind or five of a kind. If you are in free spin mode, however, all winning symbol combinations will result in additional free spins.
Slot Bonus Games
Although this game does not feature any extra games that completely change things up, what does differentiate it from other slots is the sheer amount of free spins you can win.
As established, ordinary spins that must be made with your stakes can provide you with free spins and let you enter this special mode, provided the winning combination was one of the fruits. All of the fruits will let you enter free spins mode, and landing three of a kind, four of a kind, or five of a kind will net you one, two or five free spins, respectively. The cherries are special here since just two copies of this symbol will also grant you one free spin.
During free spin mode, three of a kind of any card or fruit symbol will give you one free spin, while four and five of a kind will give you two and five spins, respectively. Cherries continue to provide you with extra free spins, as only two cherries landing on a proper payline will result in a free spin.
It is crucial to keep in mind that all of your payouts are doubled during free spins and that the x2 effect of the wild can also be triggered. This means that if you happen to be lucky, and the Fruit Shop logo appears during free spins and allows you to make a payline combination, the winnings will be doubled twice. When it comes to cherries and wilds, this is how the very impressive payout of 8000 can be achieved.
Final Words
NetEnt is a great way to take advantage of the excitement that is found with online slots. Fruit Shop provides gamers with a great chance to enjoy a classic fruit slot game that provides them with an unparalleled chance to win some serious money. This is an upbeat and energetic game that is sure to provide anyone with the entertainment that they desire from online slots. It is also one of the most colourful video slots and includes designs which are some of the most captivating. Three or more fruits in a row are what any player wants, and they are assured that they will see this often when they play Fruit Shop during their next round of NetEnt. The picture quality is some of the best, which further enhances the vibrancy of the artwork.