Marvel Themed Slots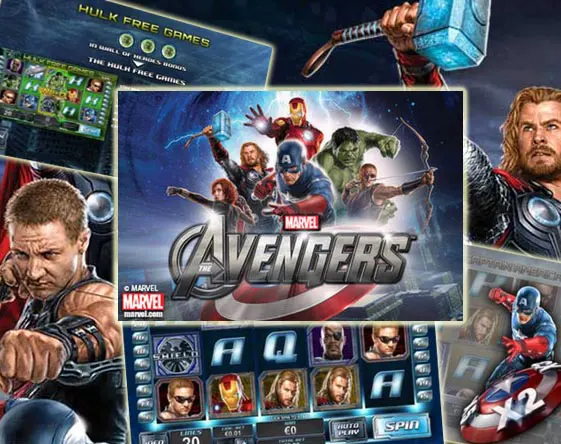 The year 2012 is not just potentially the end of the world, but it is also a big year for all Marvel fans with the release of the Avengers film. As many anxiously await the film's cinema debut, there is no better way to prepare and entertain oneself than to enjoy your favourite Marvel Slots.
Slots themed after the Marvel franchise are great for a wide variety of casino fans. High rollers can play with high stakes to win big, and those of you that like to play for fun can dabble on the no-deposit free spins or stick to low bets. Either way, you will find that Marvel slots are exceptionally fun and worth trying.
The Incredible Hulk Marvel Comic Video Slot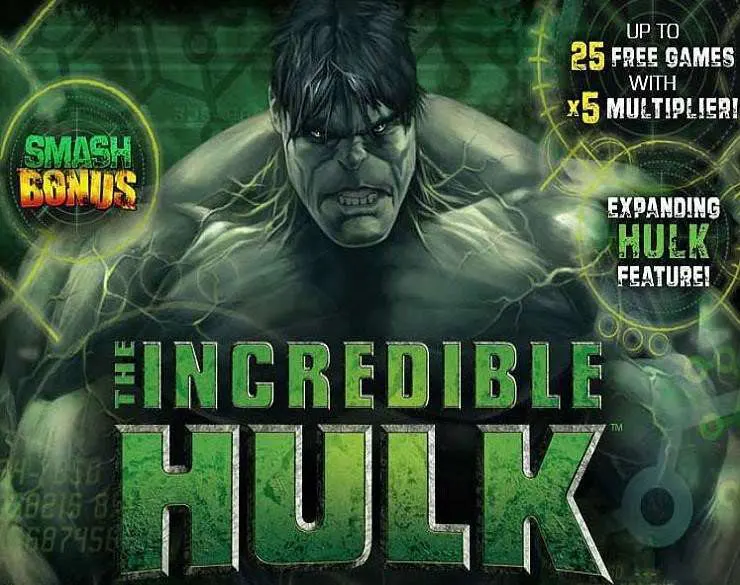 The Incredible Hulk Marvel Comic Video Slot
Provider
Playtech
Reels
5
RTP
94.82%
Wild Symbol
The Hulk
Scatter Symbol
The Incredible Hulk Logo
Highest Paying Combination
Five Radioactive Symbols
Min Bet
$10.00
Max Bet
$50.00
Max Win
4,000 credits
Jackpot
$120,000.00
Having debuted in 1962, Hulk has been one of Marvel's most iconic and beloved heroes for many decades. He is now at the height of his popularity thanks to Marvel's excellent live-action movies, and Hulk fans cannot get enough of this iconic hero. This is why The Incredible Hulk, a slot themed after Bruce Banner's alter ego, was launched to great success.
As well as rage, the Hulk runs on Playtech software. The Hulk features five reels, twenty paylines and some stunning trademark Marvel graphics. The coin sizes range from 0.01 to 5.00, and the number of coins ranges from 1 to 10. When playing with Bruce Banner's alter ego, keep an eye out for any of the following three symbols; the Hulk himself, the Hulk logo and the Smash bonus logo. The Hulk acts as the wild symbol, and he can earn you either 1 or 2 re-spins. The hulk logo is the scatter symbol, and if 3 or more scatters appear, then you can get 10 free spins with triple the payout. Furthermore, these free spins can be re-triggered again and again. As for the smash bonus logo, this is our favourite symbol of them all. The smash gets activated when the icon appears on both reels 1 and 5 at the same time, then the fun starts! The Hulk starts smashing police cars and helicopters to win bonus credits!
The Amazing Spider-Man Video Slot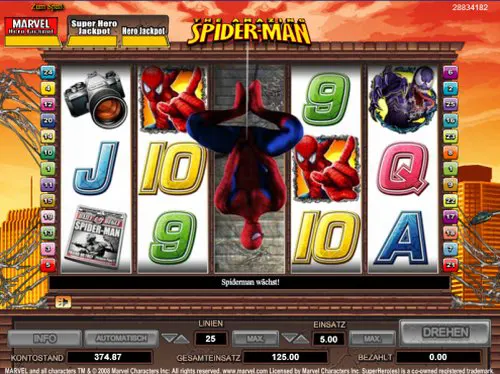 The Amazing Spider-Man Slot
Provider
CryptoLogic
Reels
5
RTP
98.48%
Wild Symbol
Spider-Man
Scatter Symbol
Spider-Man Logo
Highest Paying Combination
Five Venom Symbols
Min Bet
0.01
Max Bet
125
Max Win
5000
Jackpot
$25,000.00
The second Marvel game worth mentioning is themed around the one and only Spider-Man! The Amazing Spider-Man is a slot courtesy of CryptoLogic. It features twenty-five paylines, and you can wager from as little as a penny to as much as $5. This slot's design pays tribute to the original Spider-Man comics and characters such as Mary Jane, Venom, and Spider-Man himself.
Playing with the spider gives you the opportunity to take advantage of some fantastic bonus features, including the Spiderweb feature. Spiderweb occurs when Spiderman, who is this game's wild symbol, appears on both reels 2 and 4. Then, all of the icons on reel 3 will become a substitute in order to increase your chances of winning.
As established, Venom also plays a role in this entertaining slot. Apart from being one of the game's symbols, he is also part of The Amazing Spider-Man's second bonus mode. This mode is triggered when you get at least 3 scattered symbols, and in it, you then must defeat Venom and rescue the beautiful Mary Jane.
The fun does not stop there, as this slot also has progressive jackpots just waiting to be claimed by lucky players. There are three tiers, with the Hero Jackpot being the smallest and the Marvel Jackpot being the largest.
Elektra – Marvel Video Slot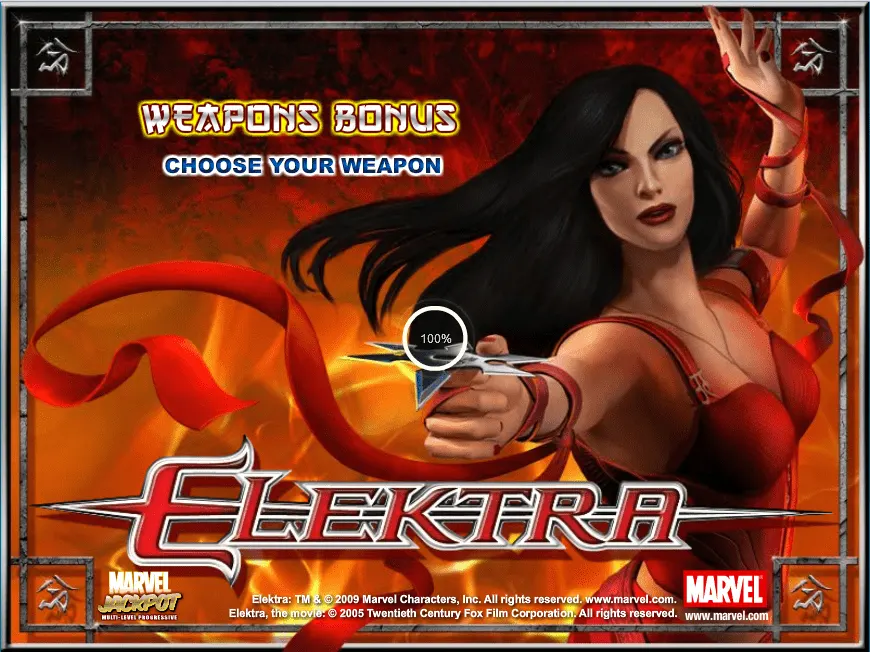 Elektra – Marvel Video Slot
Provider
CryptoLogic
Reels
5
RTP
98.48%
Wild Symbol
Spider-Man
Scatter Symbol
Spider-Man Logo
Highest Paying Combination
Five Venom Symbols
Min Bet
0.01
Max Bet
125
Max Win
5000
Jackpot
$25,000.00
Elektra, the legendary assassin who has captured the hearts of many a Marvel fan, is the star of CryptoLogic's Marvel-themed Elektra slot machine. Visually, the game borrows from the comic books in terms of artwork quality and design, making for a pleasant but intense look.
The symbols are just as dangerous-looking as one might expect, considering the anti-heroine's fighting prowess. The red logo, which is this game's wild, is an excellent example of this. Not only does it look intimidating, but this symbol is also Elektra's scatter icon and getting three or more logos will lead you to the Shoot the Ninjas mode. Here, you are put in the shoes of Elektra and need to fight Ninjas with shuriken as the assassin's weapon of choice in order to obtain additional winnings. The maximum number of ninjas you can defeat is 9, and your winnings can get as high as 6000, which speaks to how lucrative playing this slot can be.
As for the rest of the symbols, Elektra is the wild here, while characters such as Bullseye and Daredevil are also illustrated within certain icons. Other symbols include important items related to Elektra, most notable of which are her signature weapons, the sai and the shuriken.
Daredevil Marvel Comic Video Slot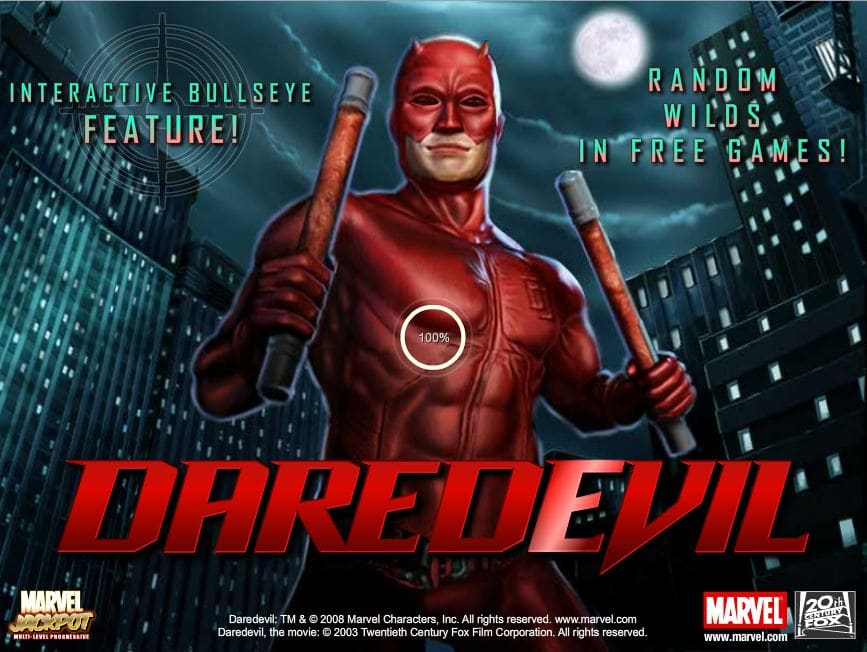 Daredevil Marvel Comic Video Slot
Provider
CryptoLogic
Reels
5
RTP
N/A
Wild Symbol
Daredevil
Scatter Symbol
Daredevil Logo
Highest Paying Combination
Matt Murdock
Min Bet
$0.05
Max Bet
$45.00
Max Win
8,000X
Jackpot
4000 coins
By now, we have come to expect thatCryptoLogic will honour the original Marvel comic books' style and looks, and the Daredevil Slot certainly delivers in this regard. Moreover, not only is the overall aesthetic on point, but several well-appreciated characters are featured in this slot. Elektra, Kingpin and Bullseye all play the roles of symbols in this five-reel online slot machine, and the same goes for Matt Murdock, who, as we all know, is Daredevil's true identity. Daredevil is the designated wild, which will substitute for all symbols besides the scatter.
Speaking of which, the scatter symbol takes the form of the Daredevil Logo. It activates the bonus game, during which you need to match icons until you get three of the same character.
Apart from the bonus feature, Daredevil is also part of CryptoLogic's random Marvel jackpots. This means that you will have the chance to win not just the small jackpots that do not exceed $200, but the large jackpots that often hover around $10,000, as well.
The Fantastic Four Marvel Comic Video Slot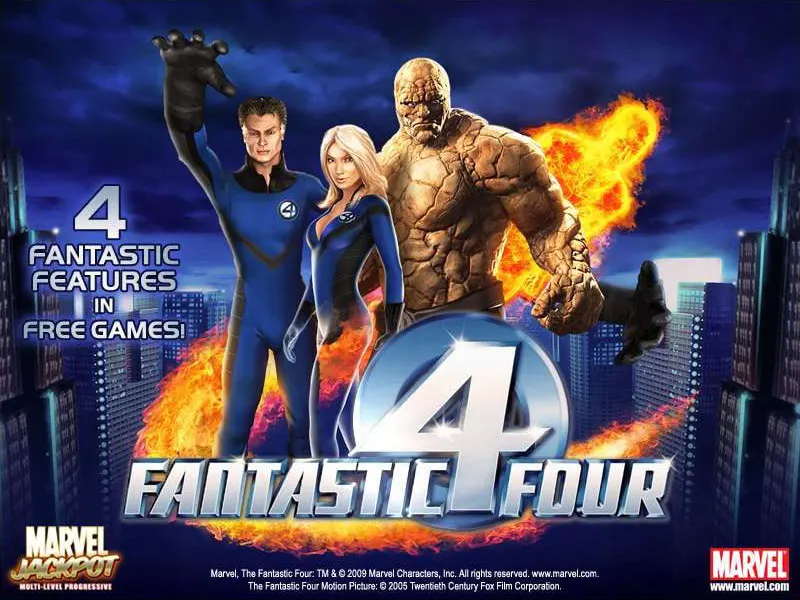 The Fantastic Four Marvel Comic Video Slot
Provider
CryptoLogic
Reels
5
RTP
94.50%
Wild Symbol
The Fantastic Four and Dr Doom
Scatter Symbol
The Fantastic Four Logo
Highest Paying Combination
Five Wild Symbols
Min Bet
$1.00
Max Bet
$5.00
Max Win
5,000 credits
Jackpot
Marvel Jackpot – Starts at 5,000 coins
Featuring five reels and twenty-five paylines, the Fantastic Four Marvel Comic Video Slot is yet another part of CryptoLogic's excellent portfolio of Marvel-related titles.
True to its source material, the slot fails to neglect any of its heroes, which is why the Fantastic Four slot boasts not just one, but five wild symbols. CryptoLogic has paid tribute to the comics' four heroes, along with the main villain Dr Doom, and each character is designated to their own reel.
Apart from payouts, the Fantastic Four and Dr Doom are also featured in this slot's bonus mode. It is triggered upon you lucking out and getting at least three scattered symbols on the reels. Once you have managed to enter this mode, you will be prompted to pick between the characters in question and essentially choose your preferred flavour of free spins and multipliers.
If you pick Mr Fantastic, you have 15 free spins, winnings are doubled, and you can win an additional free spin if he appears on the reels. Next is the Invisible Woman, who will grant you 10 free spins. Winnings are tripled, and two free spins are rewarded if she appears. The Human Torch deviates from the previous duo's mechanics. You will get 10 free spins upon picking him, Along with the tripled winnings, this mode will also grant extra wilds. The Thing will leave you with 15 free spins, but the multipliers are random, and you could get anywhere between 2x and 10x.
Last but not least, we have Dr Doom. During his own bonus mode, all of your winnings will be tripled. As for the number of free spins,you can spin the reels for free until Dr Doom appears on the screen and ends the round. All modes are very exciting, and picking between them is a matter of preference.
Final Words
If neither Spiderman, the Hulk or any of the heroes mentioned here get your adrenaline pumping, then there are plenty of other Marvel slots available at reputable online casinos. The Marvel slots you could come across include Blade, Iron Man, The Punisher, and Thor, among many more. All in all, Marvel fans are spoilt for choice in terms of slot games to choose from, so you will definitely find the one that suits your preferences and play style best.