Great Griffin Video Slot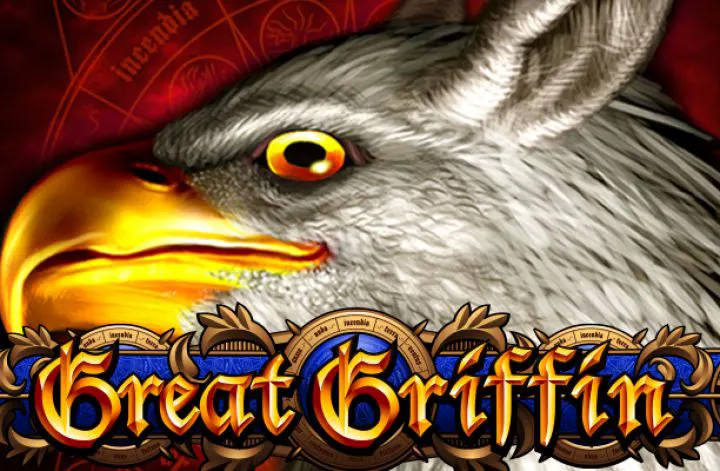 Multiple winning opportunities, exciting interactivity and some eerie artwork characterise this game.
One of Microgaming's early creations, Great Griffin, could still be enjoyed by fans of magic-themed slots. The mythical griffin – a combination of a lion's body and the wings and head of an eagle – has been feared and respected down through the ages as a powerful creature famed for guarding treasures and divine distinction.
This truly big, multi-featured slot has 5 reels, 4 rows and a massive 50 paylines loaded with action, excitement and generous opportunities for reward, all wrapped up in a superbly illustrated medieval theme set in an eerie alchemist's castle. All symbols pay from left to right. The RTP of the slot stands at 96.79%, so it has the potential to bring sizable returns to players. Casino fans are enabled to wager as little as £0.01, and up to £50 per spin.
This slot review delivers all the necessary information on the slot's symbols, winning combinations and bonus features.
Great Griffin Video Slot
Provider
Microgaming
Reels
5
RTP
96.79%
Wild Symbol
The Griffin
Scatter Symbol
Scattered Logo Symbol and Scattered Lady Symbol
Highest Paying Combination
5x Potion symbols
Min Bet
£0.01
Max Bet
£50.00
Slot Theme and Gaming Experience
Wander the dark galleries that showcase the many entertaining elements in this fun, intricate game where rewards of up to 10 000.00 in the base game, ten times that on Free Spins and 75,000.00 in bonuses are achievable.
The imaginative graphics depict a host of sorcerer's tools such as magic crystals, spell books, potion flasks and mysterious plants and roots, along with the hooded lady of the castle, and of course, the majestic and legendary Griffin itself. The story takes place in a gloomy laboratory, under the sounds of ghostly music. Slot fans are supposed to mix up potions by landing on various symbols.
The visuals and sound effects of the slot are no match for the latest creations of Microgaming. Given the long years that this title has captivated fans of slot games, it fares quite well. The dull colours used to depict the setting are in line with the main theme based on the occult.
As far as the main animation of the game is concerned, it is dedicated to the intimidating Griffin that would soar across the reels and drop in Wild symbols regularly. This happens once in every few spins, which can hamper the gambling action a bit.
Slot Symbols and Combinations
A feather of a bird, three burning candles and a gleaming potion are among the symbols that appear on the reels. However, what slot fans are mostly hoping for is the Griffin itself. Just one of the many features in the game sees the Griffin flying across the player's screen to scratch random symbols with great razor sharp claws, turning them into Wild Griffin symbols, and enabling wins to be doubled. The Wild Symbol can deliver players doubled winnings. It functions as a substitute for other slot symbols except for the Scatter Logo and the Scatter Hooded Lady.
A combination of 2, 3, 4 or 5 identical glowing potions pay out respectively 2x, 15x, 50x or 200x the money you bet. Should players succeed to match 3, 4, or 5 candles on a payline, they will be rewarded 15x, 25x and 150x their wager.
Next in the paytable are 3, 4, or 5 magic books of incantations, which would generate returns that are respectively 10x, 20x and 125x the staked amount. If players are lucky to land 3, 4, or 5 of the mysterious plants and roots mixes on a payline, they will respectively earn 8x, 15x, or 100x their initial wagers.
Slot fans who happen to land 3, 4, or 5 feathers on a payline would accumulate profits of 4x, 10x, or 100x the original bet amount.
As for the Scatter symbol in this slot title, it is represented by the Great Griffin logo. Should players land at least three of the logos on their screens, the free spins game will be triggered. Once slot fans pick the number of free spins and multipliers, the game is set to commence.
Slot Bonus Games
As already mentioned above, free spins are triggered by landing a minimum of three Great Griffin logos anywhere on the reels. Slot enthusiasts may pick from three distinct sets of Free Spins, as each one delivers a multiplier value of a different size. Players stand a chance to receive a 3x multiplier for 15 free spins, a 5x multiplier for 10 free spins, and 10x the amount of their total stake for 5 free spins.
Three of the enigmatic lady of the castle appearing on reels 2, 3 and 4 would trigger the generous Pick Me Bonus, where up to 150x the bet is achievable. The player picks one of the symbols to reveal a prize, a Pick Again or a Win All.
The lady symbol additionally triggers Free Spins when it hits on reels 3, 4 or 5, allowing the player to choose from three potion flask options:
15 Free Spins with a 3x Multiplier;
10 Free Spins at a 5x Multiplier;
5 Free Spins at a 10x Multiplier;
The Gamble Feature can be prompted by a win on any of the paylines. This feature could be either skipped or taken advantage of. Provided players activate it, they should guess the colour of a card or its suit and thus increase their chances of landing more sizeable profits. However, if they make an incorrect guess, they will lose their winnings from the last round and get back to the main game.
Final Words
This is a game that has everything – Wilds, Extra Wilds, Scatters, Multipliers, Free Spins, and great bonuses in an entertaining and interactive package that offers multiple and varied opportunities to score. Casino fans who are fond of supernatural creatures and a magic-themed environment would enjoy this slot. Get ready for a Griffin flying across the reels and bringing about some nice winning opportunities.
Taking into consideration that this slot was launched back in 2012, the artwork and animations may seem a bit outdated to some players, however, the bonus features and free spins are rewarding. The strong RTP of the game makes it an option that should definitely be explored.