Iron Man 2 Marvel Comic Slot Machines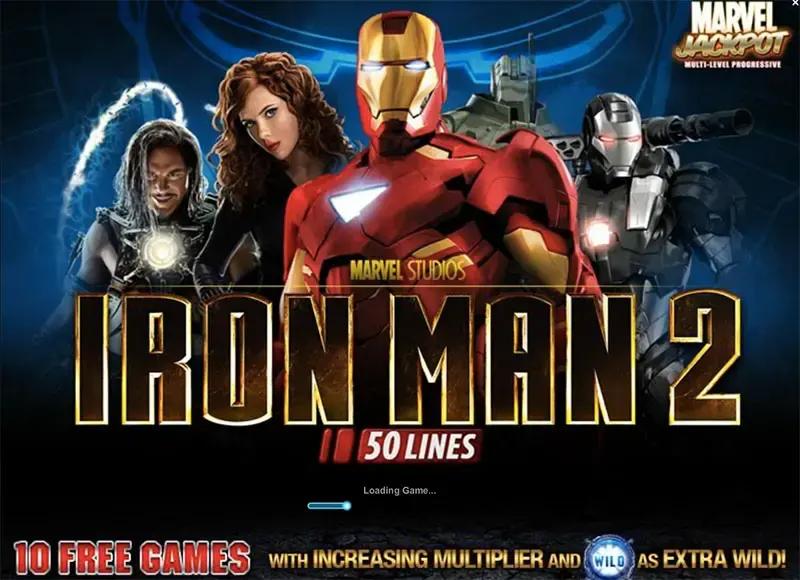 The Iron Man 2 video slot machine, which can be found at any Playtech online casino, is the second in the Marvel Comic series devoted to this popular comic book character. This video slot is a five-reel, twenty-five-payline slot that offers gamblers a wide variety of coin denominations, starting at one penny and increasing to one dollar per line bet. As with all Marvel Comic slots, there are progressive jackpots available for anyone to win, which makes these slot machines highly popular among online slot lovers, and for good reason! All the fantastic features that are associated with all Playtech video slot machines, including wild symbols, free spins, featured bonus rounds and scatter icons, make Iron Man 2 a fan favourite and a lucrative slot machine to enjoy.
We must also praise Playtech's team for just how well this slot looks visually. The artwork closely resembles the movie in its general look, and the symbols are a treat to the eyes of any Iron Man fan.
Iron Man 2 Marvel Comic Slot Machine
Provider
Playtech
Reels
5
RTP
96.00%
Wild Symbol
S.H.I.E.L.D. logo, Arc Reactor
Scatter Symbol
Iron Man 2 Logo
Highest Paying Combination
Five WIld Symbols
Min Bet
€0.01
Max Bet
€250
Max Win
3,000 credits
Jackpot
Marvel Ultimate Power – 850,000 credits
Slot Theme and Gaming Experience
The theme of this slot machine is Iron Man, a superhero from the Marvel Comic book series. The characters from the comic book are full of life in this slot machine, and the symbols include the stars from the Hollywood Blockbuster film. Robert Downey Jr. as Iron Man and Tony Stark, Mickey Rourke as Whiplash, and Scarlett Johansson as Black Widow all make an appearance here. The rest of the symbols are also excellent, seeing as they represent different Iron Man suits, along with the logo of an important fictional organisation in the franchise, S.H.I.E.L.D. The last themed icon is the Iron Man 2 logo of the movie.
The graphics and colours in this video slot are brilliant. The palette features classy blues and silvers, while the iconic colours, red and yellow, are also incorporated into the slot's user interface. As for the symbols themselves, they are fantastic and well-rendered.
The slot is impressive in terms of its features as well. Scatter icons are represented by the Iron Man 2 Logo and will activate the free spin bonus round where multipliers increase your winnings and climb higher as you move through your spins! Also included in the free spin bonus round are extra wild symbols on the middle reel. The amount of your winnings will depend on the wagering amount you were betting at the time of the hit.
There are four progressive jackpots that can be won in Iron Man 2, and this is just amazing! Online slot players gravitate towards this video slot in hopes of hitting one of the four random jackpots just waiting to be won, which usually happens on a daily basis. The four jackpots are: Power Jackpot, Extra Power, Super Power and Ultimate Power, and each one can win you a substantial amount of cash!
Slot Symbols and Combinations
Iron Man 2 is a unique slot, since more than half the symbols feature stacked illustrations. If a symbol is stacked, it means it represents two separate icons on its respective reel.
The first symbols showcase Iron Man suits armed with heavy weaponry, and they each give 30, 50, or 100 coins, respectively, for a five-reel win. Next is Iron Man Mark II, which will reward you with your stake times 150 if five symbols land on a payline. After Mark II, we are greeted with the classic red and yellow suit of Iron Man, which results in 200x your stake if you are lucky and get the highest win, or in 100 and 25 payouts for smaller wins.
After the suits, we can focus on the Marvel characters. First, we have the anti-hero Whiplash, who has a payout of 400 coins for a five-reel win, while four or three copies will leave you with your stake times 200 and 50, respectively. Black Widow brings even more lucrative wins. Four symbols will lead to a 300x bet win, and five icons mean that you will receive your 600 credits. Then, we have the protagonist of the comics, Tony Stark, who is Iron Man's true identity. He offers the best winnings among the character-focused symbols, and three icons on a payline reward a multiplier of 75, while four provide you with 500 credits. If you are in luck and receive five symbols across all reels, a payout of 1000x your bet is what follows.
The slot also features special icons such as the wild. Wild symbols in Iron Man 2 are represented by the "Agency Shield" symbol and substitute for most of the other symbols in the game, giving the player numerous ways to hit winning combinations. Hitting five of these wild symbols in one spin will win you 3000 coins. Speaking of which, the scatter symbol is the Iron Man 2 logo, and it triggers the game's bonus mode. It also has its own payout values, and five copies will leave you with your total bet times 100.
Slot Bonus Game
Although this slot's general gameplay can be quite fun, it is nonetheless great that it does have something extra to offer. The slot's free spin bonus game is triggered upon landing three of the Iron Man 2 logo scatter symbols, and the number of free spins you will receive is ten. Apart from providing you with ten free spins, this mode also makes sure to increase your multiplier gradually so you will be able to receive even more lucrative wins. During the free spins mode, you cannot trigger and gain any additional free spins.
Another unique aspect of this mode is the so-called extra wild. It is illustrated with Tony Stark's arc reactor, and it is placed on the middle reel, remaining there until the round of free spins is over. It can substitute for almost all of the other symbols. This includes the S.H.I.E.L.D. icon, but it excludes the Iron Man 2 logo scatter symbol.
Like all slots that feature Marvel IPs, the Iron Man 2 slot also allows random Marvel players to get a chance at winning one of the famous Marvel jackpots. There are several levels to these jackpots, the first of which is the Power Jackpot with 350 credits. It is followed by the Extra Power Jackpot, which has 4,400 credits, then the Super Power One with 28,000, and finally, the Ultimate Power Jackpot, which rewards a staggering 850,000 credits. You can trigger the jackpot mode regardless of whether you are in regular play or using your free spins. Finally, the jackpot game itself is simple and easy to play, seeing as all you need to do is click on the boxes until you get three identical icons.
Final Words
Iron Man 2 can be found at any Playtech Casino and is one of the newer Marvel Comic Video slot machines that have become one of the most popular series of video slots in online gambling history. This should not come as a surprise, considering how big of a smash hit the movie itself was and just how iconic Iron Man is as a character. Playtech has also ensured that each fan of the original franchise will be more than happy with what this slot has to offer in terms of features and artwork. Between the amazing graphics, the generous number of free spins, and the chance to win one of Marvel's lucrative jackpots, Iron Man 2 is definitely a slot worth trying.