Victorious – Online Video Slot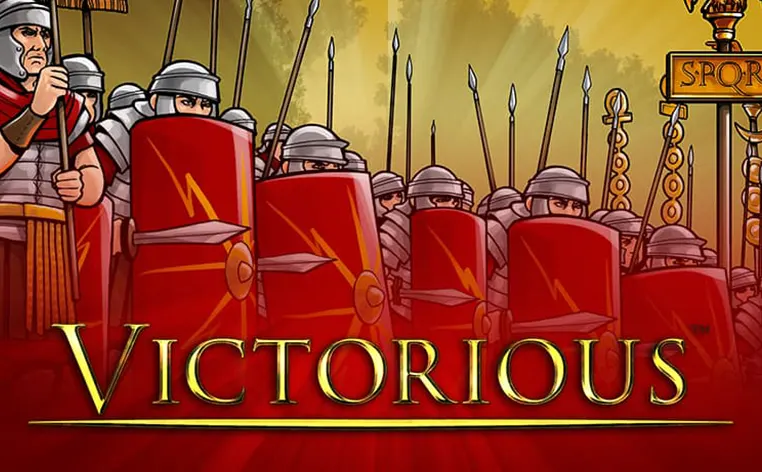 Nowadays, more and more people are using their computers as a way to play games and gamble online. Victorious, recently released by Net Entertainment, is one of the latest online video slot games available for play. Here is a closer look at Victorious.
Victorious sets itself apart from other online casino games with its high-end graphics, terrific payouts, and various bonuses, which are featured to keep the audience entertained. A theme is essential for all casino games, and this one uses victory as its main appeal, while the symbols all depict individuals and items from Ancient Rome.
This game has five reels and over 200 ways to win. This is a very big difference between Victorious and other online casino slots. It allows players a great many chances of winning, and the payouts are large as well. The game can be played in either single spin or auto mode. Spins can be made with free casino money or real cash deposits.
Victorious – Online Video Slot
Provider
NetEnt
Reels
5
RTP
96.88%
Wild Symbol
Golden Eagle
Scatter Symbol
Gold Laurel Crown
Highest Paying Combination
Five Caesar Symbols
Min Bet
25p
Max Bet
£250
Max Win
1,500 credits
Jackpot
N/A
Slot Theme and Gaming Experience
Victorious is the perfect game for those who like to win. Slot games are always popular, and this one is no different. This game has the power to transport a player back into Ancient Roman times.
As the player joins the Emperor and all of his troops to celebrate the latest victory, the drums beat and the cries sound throughout the free spin feature, which brings out a player's need to conquer. It is a great way to await the inevitable victory over the many bets, and the tripled winnings make this mode even more exciting. After it ends, a player can participate in the celebrations and start to prepare for an all-new battle.
This online video slot game is filled with sights and sounds that will have players hungry for glory. It is truly hypnotising and will provide a successful gaming experience for anyone. In addition, classic NetEnt features such as quick spin and auto spin are also part of the game's interface.
Slot Symbols and Combinations
On top of the artwork being absolutely stellar, we are also happy with the selection of symbols players have at their disposal in terms of variety and how well they fit the theme. The first six icons depict card values from 9 to Ace, a classic for slot games, and the amount you win relies on the type of card and how many icons are on the reels. Five copies of the Ace, for instance, will reward you with 200 credits. In contrast, four or three icons will result in payouts of 80 and 12 credits, respectively.
Symbols depicting individuals from Ancient Rome are next, and the first icon is of the Roman Army. Three copies will land a 20 credit win, four will leave you with your stake times 100, and 400 credits is the highest reward. The next symbol is a soldier with a silver helm and armour, and his five-reel win is a more generous 500 credits, while five copies of the centurion clad in a golden armour, who is holding a Corinthian helmet, will reward you with your stake times 1000. Last but not least is a portrait of Julius Caesar himself. Three illustrations are a guaranteed 100x your bet win. In contrast, four copies result in a win 500x your stake, while five portraits are the most impressive win so far at 1500 credits.
On to the special symbols, the laurel crown is this slot's scatter. Five copies will give you your total bet times 50, along with 25 free spins. To get the minimum of 15 free spins, you will need three crowns. Finally, the Wild is a golden bird, and it can act as a replacement for any of the game's icons.
Bonus Games
As mentioned earlier, the symbols in the game include Caesar, a centurion, a golden eagle, soldiers, and Caesar's laurel crown, making for a well-varied slot. One of this game's advantages is the golden eagle symbol. This is a "wild" icon that can be used as substitution in the main game and during the free spins mode.
The game is very generous with giving away free spins. They can be gained by landing golden crowns on the reels, and as established, five crowns will reward you with 25 spins free of charge. Additionally, all prizes that a person wins during free spins are tripled, and as a bonus, a player will receive an automatic prize every time this part of the game is reached. The laurel wreath symbol also pays the total bet multiplied by the win multiplier. There is also a lot of fanfare attached to winning free spins, as you will hear epic music and witness a change of background that illustrates an army.
Since wrist fatigue is, sadly, quite common nowadays, it will do players good to know that NetEnt also offers an autoplay button. It has a variety of settings and features that allow you to control just how long autoplay will continue, and it is something worth checking out.
Final Words
Victorious is relatively simplistic in design, but that does not stop it from being an entertaining slot. Moreover, the artwork is excellent and serves to easily transport players into a different era altogether. The ambient sounds, as well as the dramatic music, also contribute to the overall atmosphere clearly inspired by Ancient Rome.
Apart from being a treat to the eyes and excellent for those who value the sound design of their slots, it also does provide its players with free spins. Lots of free spins, in fact, and the change of background makes the mode in question all the more exciting.
All in all, Victorious is a solid slot, and it more than holds up in terms of quality when we compare it to NetEnt's other games. Since the developers are so well-respected, you will likely be able to try Victorious regardless of which remote casino you frequent.