Elektra – Marvel Video Slot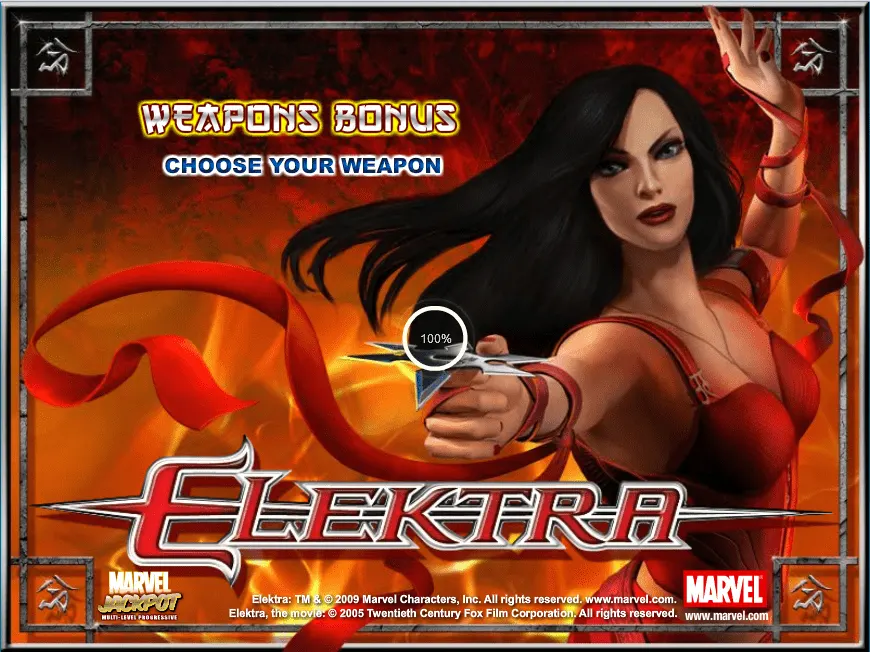 Elektra is a character who was first introduced in Marvel's 1981 Daredevil issue, and she now has her own comic book series, along with a film dedicated to her. Given Elektra's popularity, it is no surprise that the developers at Cryptologic were tasked with creating a video slot based on the famous anti-heroine.
Elektra video slot is another game in the Marvel Comics series of impressive video slot machines. It is a five-reel, twenty-five-payline slot that offers players a coin denomination from one penny per line bet up to five dollars per line bet with a coin maximum of 25 coins available to wager.
The game offers three random jackpots, a fantastic Marvel Comic theme, and special features that all online slot players have grown to expect with this popular series of online slots. The top coin jackpot, not including the random jackpots, is worth 5000 coins, and your winnings would be determined by the coin denomination that you were wagering in at the time the coin jackpot hit.
Elektra – Marvel Video Slot
Provider
Cryptologic
Reels
5
RTP
N/A
Wild Symbol
Elektra
Scatter Symbol
Red Character
Highest Paying Combination
Five Elektra Symbols
Min Bet
$0.01
Max Bet
$125.00
Max Win
5000 coins
Jackpot
Marvel Hero Jackpot – between $5,000 and $25,000
Slot Theme and Gaming Experience
This slot is themed to fit the aesthetics and atmosphere of the Elektra comics. This includes the UI, which has been heavily stylized, as well as the icons. Some of the symbols found in the Elektra video slot include the main anti-heroine herself, along with Daredevil, Japanese characters, and assorted ninja weapons.
Elektra in the Marvel Comic books is a ninja, an expert martial arts avenger, and her extraordinary abilities are highlighted in the bonus round, where Elektra is busy chasing ninjas across the slot machine screen. Wild symbols are included in the gameplay and are represented by Elektra herself. This wild symbol will substitute for all other icons in the game, except for the scatter icons, and hitting five of these symbols in one spin will award you the coin jackpot of 5000 coins! The scatter icon in this slot machine is represented by the game's red "Logo" symbol. These scatter icons are worth their own coin prizes when hitting two or more, and by hitting three in a single spin, you will activate the featured bonus round! The slot also offers progressive jackpots, which can be won at random.
As for the interface, apart from fitting well within the Elektra setting, it is also very convenient and offers features such as autoplay for those who wish to sit back and relax as they wait for their potential winnings. You also have the option to customise the number of paylines which will be active during gameplay.
Slot Symbols and Combinations
The Elektra themed Marvel slot by Cryptologic has done away with the traditional card values typical of both modern slots and classic brick-and-mortar slot machines. Instead, the icons you can see only include symbols of items, heroes and villains from the Elektra comics.
The first symbols in question are two Japanese characters, one of which is the character for person, 者(mono). The other one is 忍(shinobu), which means endurance. Your winnings from either symbol are the same, with three icons on the reels rewarding you with your stake times 4, 20x your bet for four icons, and a 100x your stake reward if a five of a kind win is achieved.
The symbols that follow are a bloody handprint and Elektra's bandana, five of which will result in a win with a multiplier of 125, while a dragon or five suitcases full of money will reward you with your bet times 150.
The next icons are Elektra's weapons, which are the shuriken and the sai daggers. If you get five of a kind, the reward would be 250 coins. The symbols after this represent characters from the comic. Bullseye, a villain, will leave you with your bet times 500 if a copy lands on all five reels, while the Daredevil and Elektra illustration is even more generous and will multiply your stake by 1250.
The final symbols are the wilds and the scatter. Elektra is the game's substitute, and she will not only replace all other icons except for the scatter, but she will also give you the lucrative reward of 5000 coins if you are extra lucky and five copies are spread across all of the reels. Last but not least, we have the bloody scatter symbol, which activates the Shoot the Ninjas extra game. In addition, this icon also has its own values, and five copies will leave you with 100x your total bet.
Slot Bonus Games
The featured bonus round is activated by hitting three or more scatter symbols. Once activated, you will be transported to a dark alley where Elektra must defeat as many ninja warriors as possible by throwing the ninja star weapon at them as they run across the alley. Receive up to nine tries to hit as many as possible, and the bonus round ends when you either hit five ninjas or miss five. Each ninja that you hit is worth a certain amount of multiplying coins determined by your triggering bet. You can win as many as 6000 coins for each ninja hit! Now that is a massive amount of coins to be won, and the game takes a little skill, so make sure to practice whenever the opportunity arises!
Like all Marvel Comic video slot machines, the Elektra game also contains three random jackpots. The three-tiered system will randomly award a slot player one of the three prizes at any time for any reason! Jackpots can range from the lowest of about $1000 to the top jackpot, which is normally in the 10 to 20 thousand dollar range. These jackpots are hit daily and sometimes more than once by the same player!
Final Words
If you have not played any Marvel Comic video slot games found at most Wager logic casinos, Elektra can be your first and may end up being your all-time favourite slot! The game will be even more enjoyable if you are a fan of the Marvel character along with her comics, seeing as the developers and Cryptologic have done a great job at retaining the atmosphere of the source material.
In addition, the Elektra video slot does not disappoint in features either since it offers a great variety of symbols, an entertaining bonus game which can also be pretty generous, and progressive jackpots that can really spice up the gameplay.